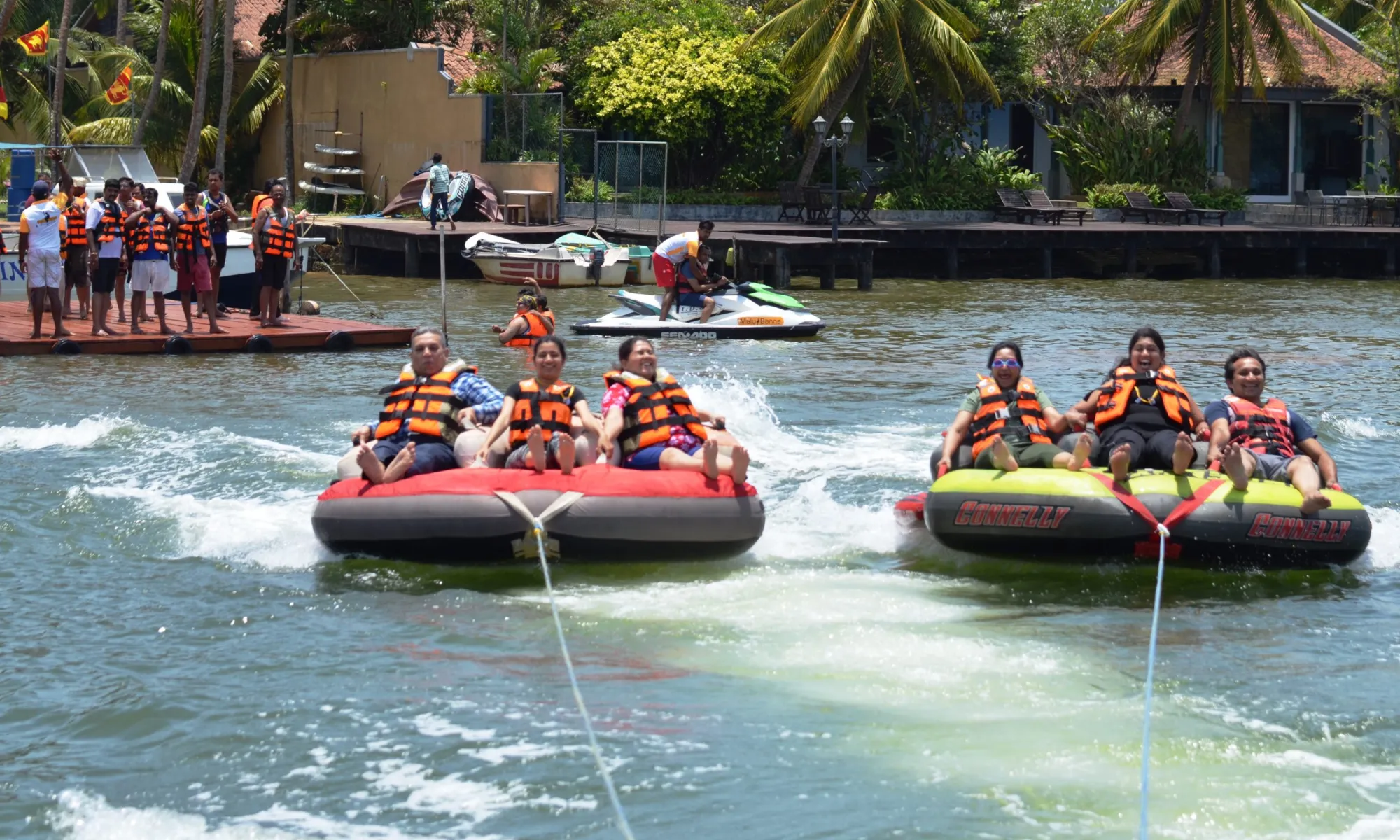 Watersports
Travellers seeking an exciting watersports adventure should look no further than the vibrant coastline of Sri Lanka. Encompassing regions between Bentota and Weligama on the South Coast, Kalpitya and Negombo on the West Coast and Arugambay on the East Coast. Whether you enjoy Jet-skiing in Bentota and Hikkaduwa, Kite Surfing in Kalpitya, or if you enjoy catching some waves in Arugambay, the island offers thrill-seekers exhilarating watersports all year around.
Sri Lanka is a water sports paradise for thrill-seekers and beach lovers alike. With its crystal clear waters and stunning coastlines, the island offers a wide range of activities to choose from. Surfing is a popular choice, with top spots such as Mirissa and Unawatuna offering great waves for both beginners and experienced surfers. For a more relaxing experience, take a dip in the warm waters and try your hand at snorkeling or scuba diving, with an abundance of marine life waiting to be explored. Kitesurfing and windsurfing can also be enjoyed at Kalpitiya. If you're looking for a bit of adventure, try white-water rafting in Kitulgala.
Here are some of the most popular water sports in Sri Lanka, and where to find them:
Surfing: The south and west coasts of Sri Lanka offer some of the best surf spots in the world, with swells that can reach up to 8 feet. Weligama Bay, Hikkaduwa, and Unawatuna are popular spots for surfers of all levels.
Snorkeling and Scuba Diving: The clear waters around the island are home to a diverse range of marine life, making it a popular destination for snorkelling and scuba diving. Pigeon Island, Hikkaduwa, and Trincomalee are popular spots for diving and snorkelling.
Kitesurfing: The east coast of Sri Lanka, particularly Kalpitiya, is a popular spot for kitesurfing. The steady wind and flat water make it ideal for beginners and experienced kitesurfers alike.
Stand-Up Paddle-boarding (SUP): The calm waters of the Bentota River and Madu Ganga are popular spots for stand-up paddle-boarding. Paddle through mangrove forests and spot a variety of bird species.
Jet Skiing: Jet skiing is available in many tourist hotspots in Sri Lanka, including Bentota, Hikkaduwa, and Unawatuna.
Windsurfing: The south coast of Sri Lanka is a popular spot for windsurfing, with steady winds and flat waters. Weligama Bay and Unawatuna are popular spots for windsurfing.
Kayaking: Exploring the mangroves and lagoons around Madu Ganga, Koggala Lake and Bentota River by kayak is a great way to see the island's natural beauty.
Fishing: Deep sea fishing trips can be arranged in many coastal towns in Sri Lanka, including Trincomalee, Bentota, and Hikkaduwa.
Whatever your water sport of choice, Sri Lanka has something for everyone.
Get in touch with us today and let us help you plan the perfect water sports adventure!